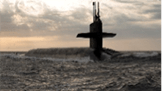 CUSTOMER:
Navy Strategic Systems Programs (SSP)
SSP needed to update its robust, multi-layered nuclear weapons security systems using a single system security architecture in order to manage configuration, coordinate system design and implementation, and improve program efficiency. JRC developed a MBSE solution for integrating multiple security systems into one common architecture.
The Challenge
Need a process to manage and change system baselines in order to control configuration with subsystems and elements
Need to understand the engineering, cost, and operational trade-offs among multiple design solutions
Segregated system data precluded effective information management
The JRC Solution
JRC Systems Engineers developed a model-based systems engineering (MBSE) approach to the program's architecture development using the Department of Defense Architecture Framework (DoDAF).
JRC developed the MBSE policy for MBSE implementation and incorporated a Conceptual Data Model for developing the architecture.
JRC developed the systems architecture that created commonality among all the subsystems.
JRC employed a web-based means to display and share architecture products and information.
The Result
SSP now has a MBSE architecture, which provides system and documentation configuration management, to effectively make engineering and financial trade-off analysis, and efficiently manage element, subsystem, and system requirements changes.