Posted February 10, 2021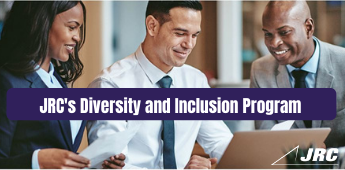 JRC is excited to announce the launch its official Diversity and Inclusion (D&I) program. Diversity and Inclusion has been a pillar in JRC's success strategy since the company was founded in 2003. JRC leadership has consciously worked to build a company environment that is diverse and inclusive to facilitate professional growth, quality service, innovation, and trust amongst its people, government customers, and partners. JRC's goal with its D&I Program is to promote a culture of selfless leadership, helping our employees achieve their highest professional potential through the spirit of team, community, and individuality.
Through JRC's D&I initiatives, it intends to foster opportunities for our employees to connect and grow together through Employee Resource Groups, community initiatives, and personal development opportunities. JRC believes when employees feel motivated and unfettered to authentically share their talents, they have the potential to develop solutions and ideas that can change the world.
A few words from our CEO and Founder Dr. Tony Jimenez on Diversity and Inclusion:
"JRC has proven to be a trusted DoD and Federal provider for over the past twenty years because of its diverse talent base. I believe our greatest asset is our people. We will continue to invest and support the diversity and inclusion of our Workforce, fostering opportunities for growth, community, and well being for our JRC family members as we work towards achieving our nation's most challenging goals".  - Dr. Tony Jimenez
Dominique Manuel (JRC HR Supervisor) will be leading JRC's D&I Program. Dominique has been supporting JRC for the past 4+ years. In this time, she has become vital to JRC's Human Resource Division, administering various benefit planning, team building, and talent management initiatives including monthly training programs and a myriad of other HR functions supporting JRC's HR Director. As our Diversity and Inclusion Program lead, Dominique is dedicated to overseeing our Employee Resource Groups, fostering workforce connections, and creating an environment where employees can develop their greatest professional potential.