Posted June 22, 2023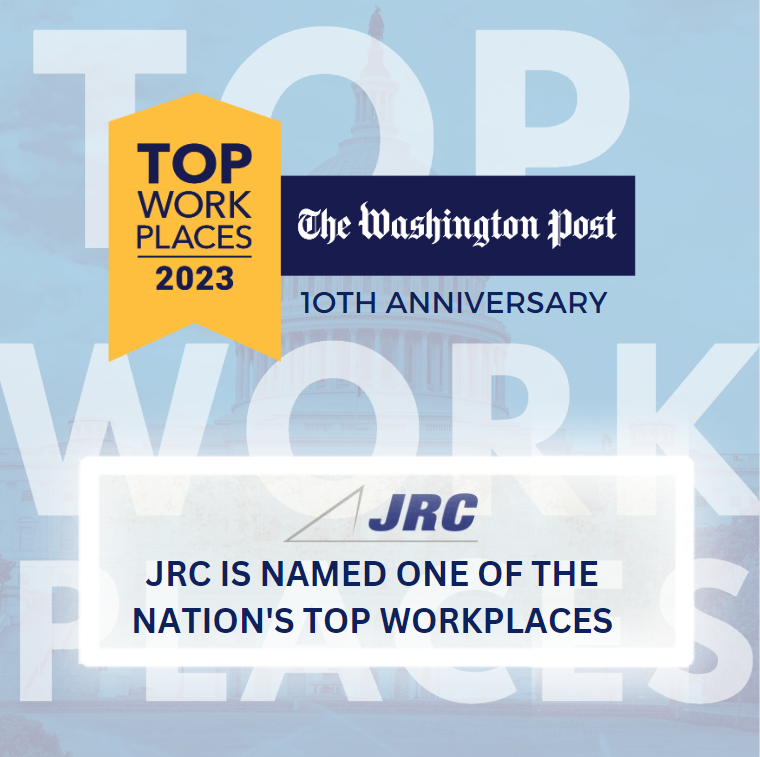 WASHINGTON, DC (22 JUNE 2023) – JRC has been named one of The Washington Post's 2023 Top Workplaces in the Washington, D.C. area. Selection is based solely on employee feedback gathered through an anonymous third-party survey administered by research partner Energage, LLC, which measured several aspects of workplace culture, including alignment, execution, and connection. This year's honorees include government contractors, real estate firms, consulting groups, and tech companies.
"For the past ten years, the Top Workplaces list has been a credible guide to companies, old and new, in the D.C. region where employees feel valued," said Washington Post Top Workplaces editor Bronwen Latimer. "As a new generation enters the workforce, the Post is more committed than ever to highlighting the changing landscape of work and how these companies are thriving in it."
Being a trusted DoD provider starts with building leadership at every level of our organization. Focusing on the spirit of team, community, and individuality, has helped JRC solve complex challenges, exercise outside the box thinking, and expand our expertise, all while serving our customers with excellence for over the past twenty years. Together, JRC is committed to building an environment that honors family, excellence, and integrity. While serving our mission and supporting our people, we are dedicated to strengthening our industrial base, concentrating efforts in areas such as Hypersonics, Microelectronics, and Artificial Intelligence, contributing to a modernized defense landscape.
"Being recognized as one of the nation's top workplaces for 10 years in a row, tells me we've been successful at making the people of JRC our number one asset. Building a workplace environment that facilitates professional growth, quality service, innovation, and trust, helps our people reach their greatest professional potential, while achieving some of our nation's most challenging goals. We are truly honored to be represented as one of the eight companies this year being recognized as a Top Workplace for 10 years straight."- JRC CEO and Founder, Dr. Tony Jimenez.
We invite you to read the full-length digital article, featuring The Washington Post's Top Workplaces and to see the full list of this year's honorees.
###
About JRC
JRC provides its employees and their families with exceptional health and retirement benefits. We also acquire outstanding affordable options for medical insurance, providing dental, vision, and life/disability insurance (short and long). JRC is dedicated to investing in the long-term development of its people through its JRC Academy, providing each employee a plethora of learning opportunities, including trainings, certifications, and tuition assistance. The JRC Academy includes a career development support center as well as the JRC Leadership Institute (JLI), a formal leadership development training program, designed specifically to create level five leaders, a concept popularized by Jim Collins, author of Good to Great.
About The Washington Post
The Washington Post is an award-winning news leader whose mission is to connect, inform, and enlighten local, national and global readers with trustworthy reporting, in-depth analysis and engaging opinions. It combines world-class journalism with the latest technology and tools so readers can interact with The Post anytime, anywhere.
About Energage
Making the world a better place to work together.TM
Energage is a purpose-driven company that helps organizations turn employee feedback into useful business intelligence and credible employer recognition through Top Workplaces. Built on 16 years of culture research and the results from 27 million employees surveyed across more than 70,000 organizations, Energage delivers the most accurate competitive benchmark available. With access to a unique combination of patented analytic tools and expert guidance, Energage customers lead the competition with an engaged workforce and an opportunity to gain recognition for their people-first approach to culture. For more information or to nominate your organization, visit energage.com or topworkplaces.com.