Posted May 19, 2022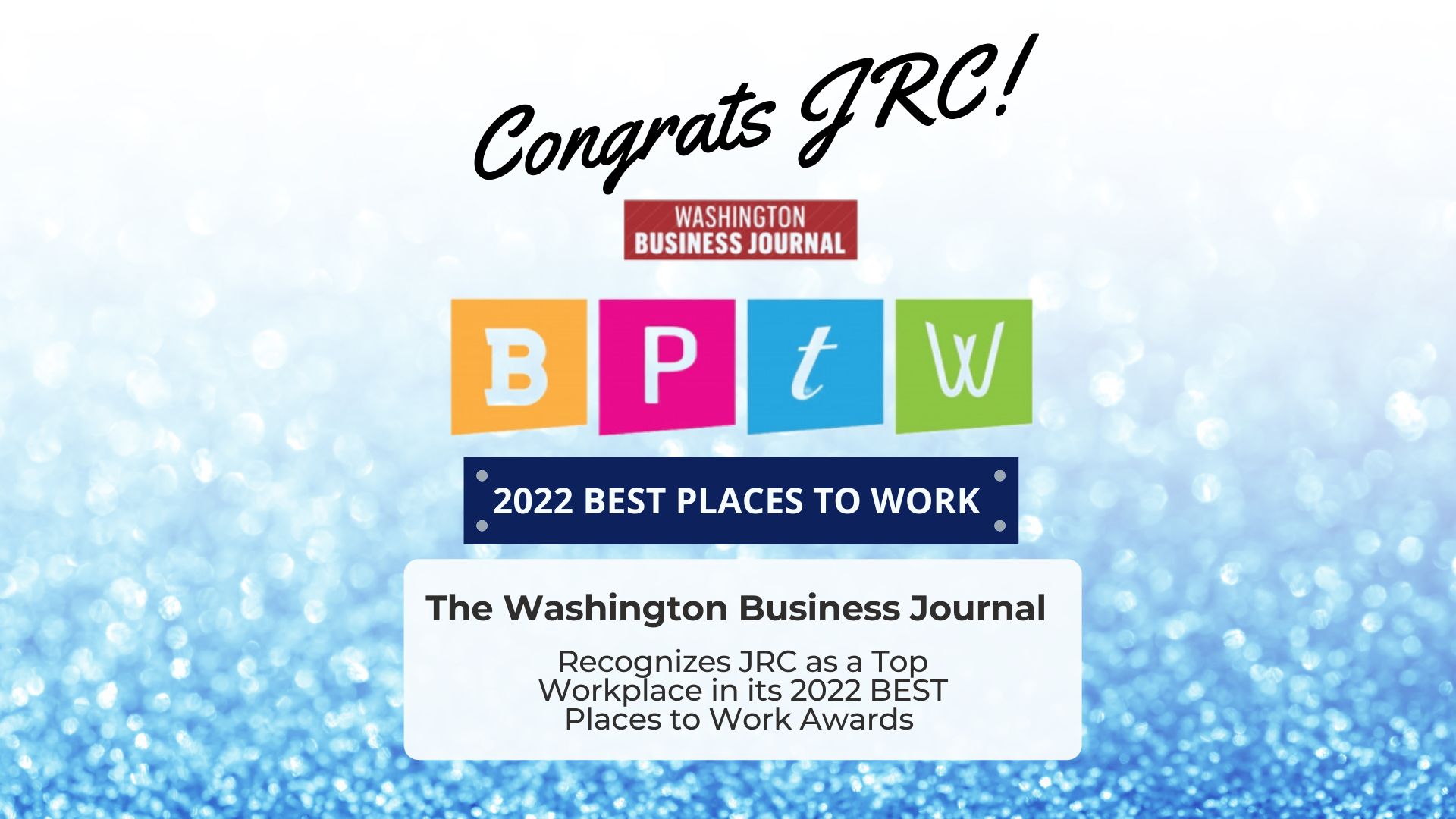 WASHINGTON, DC (May 20 2022)– The Washington Business Journal recognizes JRC as one The Best Places to Work in the greater Washington area in 2022. Each year, The Washington Business Journal Best Places to Work program recognizes the importance of cultivating a great workplace culture as a competitive advantage. Companies awarded with this honor are acknowledged for recruiting and retaining exceptional and skilled employees. Thousands of employees across greater Washington participate in the annual Best Places to Work survey, administered by research partner, Quantum Workplace. The survey targets specific questions related to employee engagement and happiness in the workplace.
JRC has worked diligently to create a sense of community, connection, and purpose at each of its six office locations. Weekly, employees commit to coming together for coffee and conversation to celebrate employees, share inspiring stories, and stay informed of our latest team achievements. This is one of many forums where JRC focuses to nourish its employee relationships and build strong leadership within. The quality we provide to our government customers starts with how we support and build-up one another within our own four walls. Today- "our walls" reach across the United States and abroad.
"Being recognized year after year for this prestigious award is a true reflection of the culture we have built together as a JRC Family. For us, leadership is not about what we get, whether its fame, fortune, adulation, or power, but it's about what we build, what we create, what we contribute to achieve our nation's most challenging goals. We successfully contribute to The United States' most important defense programs because we do it together. With a shared focus on family and serving the men and women in uniform, there is endless possibility for how we will continue to share our expertise in support of our great nation" – JRC President & Chief Operating Officer, Tony R. Jimenez.
JRC provides its employees and their families with exceptional health benefits. We are committed to contributing 10% of each employee's salary to their 401K without a contribution requirement. We also acquire outstanding affordable options for medical insurance, providing dental, vision, and life/disability insurance (short and long). JRC is dedicated to investing in the long-term development of its people through its JRC Academy, providing each employee a plethora of learning opportunities, including trainings, certifications, and tuition assistance. The JRC Academy includes the JRC Leadership Institute (JLI), a formal leadership development training program, designed specifically to create level five organizational leaders, a concept popularized by Jim Collins, author of Good to Great.