Posted May 18, 2023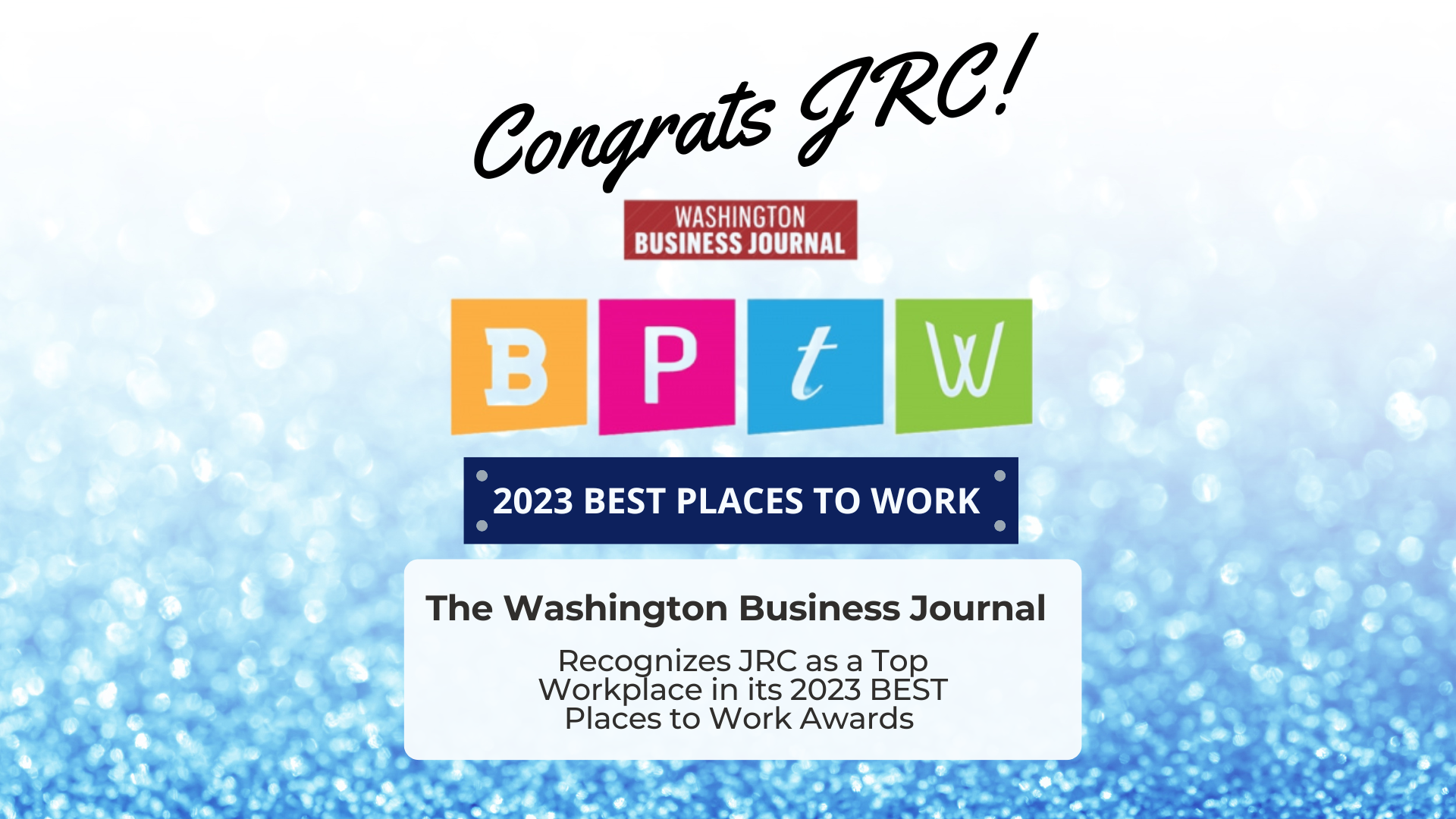 WASHINGTON, DC (May 18 2023)– The Washington Business Journal recognizes JRC as one The Best Places to Work in the greater Washington area in 2023. The Washington Business Journal's Best Places to Work program honors the area's leading employers that go beyond the norm to foster an enjoyable and meaningful work environment for their employees. 
Each year, thousands of companies across greater Washington compete to be recognized as one of the best places to work. Employees from each company rate their employee experience, sharing details related to engagement, communication, leadership and trust in the workplace. The survey is administered through a third-party research partner, Quantum workplace. Quantum is committed to crafting survey questions that indicate the importance of cultivating a great workplace culture as a competitive advantage.
As JRC continues to strategically grow across the United States and abroad, contributing to some of our nation's most important defense programs, we do so through the spirit of team, community, and individuality. We focus on making sure each employee feels connected, heard, and celebrated as they partner with us on their career journey. As a trusted government partner for over twenty years, we're proud to support our nation's goals with some of the best leadership, engineering, and dynamic thinking in the industry.
"Being recognized as a "Best Place to Work" in the greater Washington area year after year is a true testament to our values, of Family, Excellence, and Integrity. Our values were built to support our people and ultimately our mission in achieving our nation's most challenging goals. Trusting one another and providing consistent and exceptional support to not only our government customers but to each other, is what enables us to create a great workplace. The people are the cornerstone of our business. Without our people, our mission would fail, and our mission is too important to fail here at JRC" - JRC President & Chief Operating Officer, Tony R. Jimenez.
JRC provides its employees and their families with exceptional health and retirement benefits. We also acquire outstanding affordable options for medical insurance, providing dental, vision, and life/disability insurance (short and long). JRC is dedicated to investing in the long-term development of its people through its JRC Academy, providing each employee a plethora of learning opportunities, including trainings, certifications, and tuition assistance. The JRC Academy includes a career development support center as well as the JRC Leadership Institute (JLI), a formal leadership development training program, designed specifically to create level five leaders, a concept popularized by Jim Collins, author of Good to Great.