Posted November 17, 2020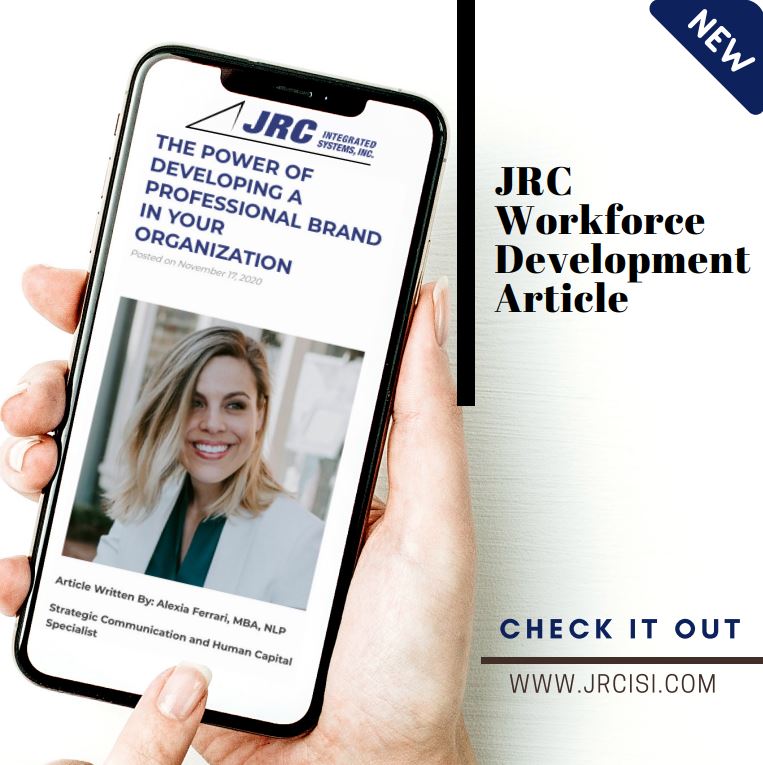 Article Written By: Alexia Ferrari, MBA, NLP
Strategic Communication and Human Capital Specialist
---
THE POWER OF DEVELOPING A PROFESSIONAL BRAND IN YOUR ORGANIZATION 
Five-brand ingredients to ignite your career, become an asset in your industry, and maximize your level of service.  
We often reserve the concept of branding for large companies creating a product or service. As professionals, it's rare we take time to develop our own brand to curate a passionate and purpose-filled career. You may be asking yourself, what does a professional brand even mean and how does it apply to corporate employees?  No matter your job, industry, or title, you already have a professional brand. Essentially this is what are you known for within your organization. Your brand encompasses components such as your talent, persona, expertise, emotional intelligence, and charisma. A well-crafted brand affords business professionals career opportunities and accelerated success doing work they love. 
As a defense contractor, I've had the privilege of serving my government clients and respective organization, while building my own professional brand. I understood early in my career to create impact in my field, I would need to effectively support my clients through what I call a personalized brand experience. I began to realize the concept of refining my skill set, while making myself known, was simply an entrepreneur mind-set adapted to fit within a workplace model.  Behind every single household brand is an entrepreneur who knows how to successfully tell a story about who they are and how they can serve. Career professionals desire the same result. We want our organizations to understand how we can deliver value, exchanging our talents for a genuine career partnership.   
If you desire to rise within your given industry using your professional brand, it will take intention, strategy, and heart to get to the core of who you are and how to effectively position yourself. Establishing clarity around your brand enables you to incorporate your unique professional offerings into every task, project, and team you support. If you're not sure where to begin, I suggest crafting a personalized brand cocktail; the foundational process I use when coaching others on how to build their professional brand. Here are the 5 brand ingredients to include within your brand cocktail. 
Brand Ingredients: 
1. X Factor 
Take time to understand the talents that make you unique within your organization and industry. Think- how do I create impact with these talents and how are my skills different than my peers?  Ask yourself two questions: #1 Am I currently known for these talents?  #2 Are these talents what I want to be known for? If you are not known as you wish to be, you are experiencing what is called brand disconnect and it may be time for a brand makeover. Remember the idea is to curate a brand identity that speaks not only to how you can serve but also to work that you are passionate about.  
2. Energetic Currency  
The energetic currency of your brand is how you make your clients, teammates, and stakeholders feel when working with you. This is relevant because people do business with those that they know and trust. Showing up to work each day with intention, helps us to nurture our professional relationships, creating endless opportunity for us and our organizations. Identify what your brand energy is and how you can show up in this energetic state each day. It's key to remember that high and positive energetic states are contagious within an organization. It's incredible how you can lift others with your brand energy.  
3. Influence  
Once you understand what you would like to be known for, it's time to begin creating impact. Through influence, a strong brand can develop a loyal lifelong customer base. Your professional brand can create similar patronage by delivering quality, taking action on feedback, and staying true to your authentic home base. Your authentic home base represents the personal mission, vision, and values (MVV) you hold as a professional brand. Your MVV becomes your professional compass for determining whether opportunities align with your career trajectory. As you increase your brand influence, you increase your professional network (aka- your following), thus creating brand ambassadors to spread the good word about your work. 
4. Adaptability
For brands to stand the test of time, it is essential for them to adapt to the needs of their customer base and evolve accordingly to survive in new environments. The best way to maintain brand relevancy is to keep your eye on the horizon, identifying how you can provide the most value as your organizational environment evolves. You'll need to consistently ask yourself, how can I improve, expand, and tweak my support as new challenges and priorities arise within my organization?  Brands that adapt survive.  
5. Purpose 
A critical component to your professional brand is identifying how your contributions support the greater good. Doing so allows us to declare why our individualized work activities matter, grounding our brand in purpose. When we take ego out of the equation, we can step outside of ourselves, get laser focused, and create products and services that better our world. When we understand that our brand is bigger than us, we can deliver genuine value that is people and mission driven.   
If you desire to create a prosperous and purpose-filled career doing work you love, I urge you to develop your own brand cocktail. I believe that when we are connected to work we love, we are able to reach our greatest professional potential.   
___________________________ 
Author: Alexia Ferrari  
Talent Development and Communications Professional, Alexia Ferrari, has spent the past 10+ years specializing in Corporate Strategic Communication, Human Capital, & Program Management.  
Alexia's passion for developing corporate talent led her to create leadership development programming for the Department of the Navy. Alexia has served as a Program Manager for JRC, serving the DoD. She's managed specialized teams supporting high performing Executives, Admirals, and Directors. Today, Alexia is leading Human Capital and Strategic Communication efforts for her firm, pioneering developments in knowledge management, professional performance, and corporate culture. Her defense background combined with her advanced degree in business and neuro-linguistic programming specialization, has helped her to refine processes for growing and retaining corporate talent and developing personalized success systems. Alexia is best known for helping employees and clients develop professional brands to become an invaluable asset to their respective organizations. She believes when an employee is connected to work they love, they can reach their greatest professional potential, taking their teams and organizations to new heights.