Posted June 23, 2020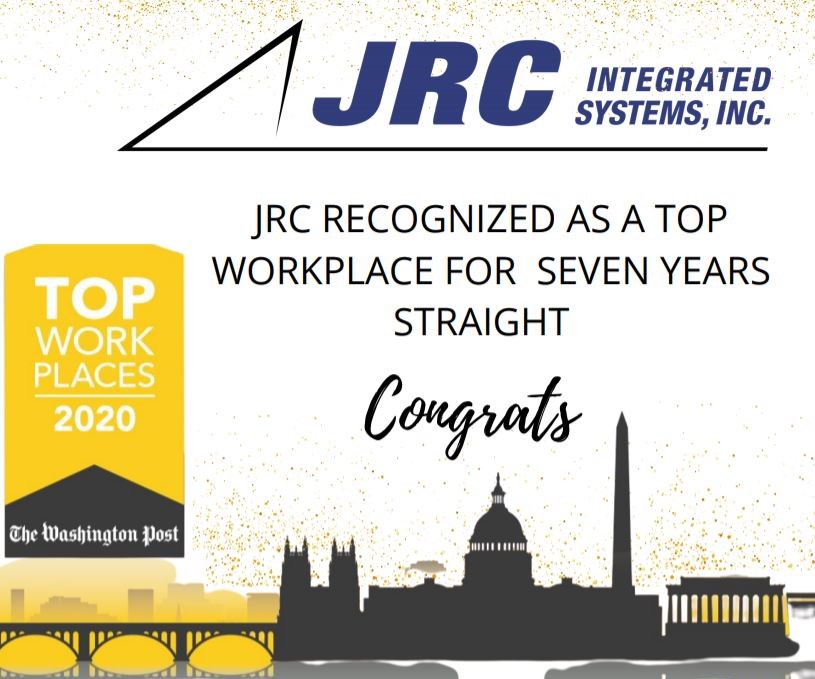 JRC has been named one of The Washington Post's 2020 Top Workplaces in the Washington, D.C. area. Selection is based solely on employee feedback gathered through an anonymous third-party survey administered by research partner Energage, LLC, which measured several aspects of workplace culture, including alignment, execution, and connection.
"Now in its seventh year, The Post's Top Workplaces list continues to highlight the companies that are leaders in the Washington-area in terms of employee engagement and satisfaction," said Washington Post Top Workplaces editor Dion Haynes. "We had a record number of employees participate in the survey this year, making it clear that these organizations have made cultivating an atmosphere of support and respect a priority."
JRC is humbled by this award. Being a top workplace in the Washington area is an honor we proudly share with this select group of esteemed organizations. Creating a culture that enables our workforce to express their talent through innovation, creativity, and community is a top priority for JRC. We believe it is our Family and Team Mentality that keeps us consistently delivering smart solutions in support of our Nation's most challenging goals of strategic deterrence and strategic defense.
JRC provides its employees and their families with exceptional health benefits, company 401(k) contributions (without an employee contribution requirement), a Metro subsidy, and an employee referral bonus program. JRC is proud to enroll each employee in the JRC Academy, the company's personal development program, including trainings, certifications, and tuition assistance. JRC is dedicated to investing in the long-term development of its people.
"For the past 17 years, JRC has been committed to creating an environment that empowers our employees to achieve their highest professional goals. Receiving this award for the seventh consecutive year confirms that JRC has succeeded in creating this environment for our people," said JRC's Founder and CEO, Dr. Tony Jimenez.
The full list along with additional content will run in print in a special Top Workplaces magazine on October 14 and will be available on The Post's site. The Washington Post will also host an awards ceremony in October to recognize the 200 top-ranked companies.