Posted February 01, 2023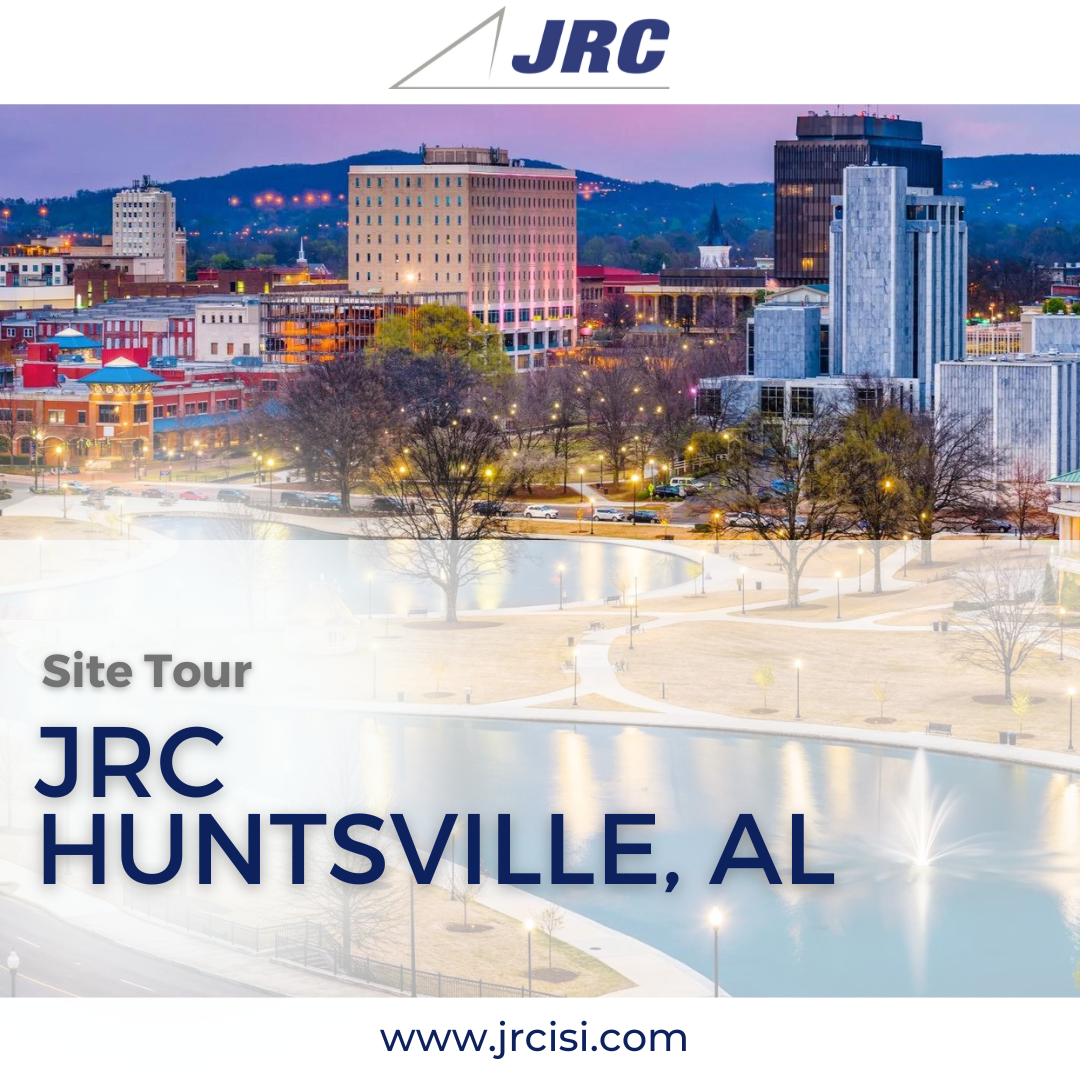 Over the past decade, JRC has strategically expanded its support to include presence in 15 states with physical JRC offices in six locations including Huntsville, AL; Cape Canaveral, FL; Kings Bay, GA; Crane, IN; Dahlgren, VA; and Washington, DC. 
Each of our JRC locations offers unique skills and services for local customers, helping to support some of our nation's most challenging goals of strategic deterrence and strategic defense.
______
HUNTSVILLE, ALABAMA SPOTLIGHT
JRC's Huntsville, Alabama office is located in one of the Southeast's most recognized cities that is consistently acknowledged nationally as one of the best places to live for both business and quality of life (attributed to the educational, recreational, and cultural opportunities for residence). Being home to The Army's Redstone Arsenal, NASA's Marshall Space Flight Center, and Cummings Research Park, Huntsville is well known for its technology, space, and defense presence (City of Huntsville, Alabama, 2023).
Our JRC Huntsville Team primarily supports Missile Defense Agency (MDA), under the Directorate of Engineering and Program offices including Terminal High Altitude Area Defense (THAAD), Command Control Battle Management Communications (C2BMC), and Ground Midcourse Defense (GMD). Providing strategic solutions to complex defense challenges, JRC's Huntsville Team specializes in areas such as systems engineering, systems integration, requirements engineering, cyber security, risk management framework (RMF), and assured compliance assessment solution (ACAS) scan analysis.
The Huntsville Facilities and Systems Engineering Team is comprised of engineers responsible for providing architectural advisement to MDA, while also supporting MDA's global deployments in Japan and Guam.  They are also responsible for Foreign Military Sales.
The Huntsville Cyber Team supports Army radar site cyber security for the Army Air and Missile Defense Agency.  Our JRC cyber engineers are responsible for developing system and element level requirements for the agency. Our Cyber Team evaluates cyber security policy, cyber security risks, and advises the Agency on Authorization to Operate (ATO). 
The JRC Huntsville Team continues to expand its expertise in the areas of digital engineering (Model Based Systems) to support its DoD Customers. In 2023, JRC anticipates developing new contracting vehicles to support its customer base as well as new career opportunities for JRC talent.  
In 2022, JRC was nominated by the Huntsville/Madison County Chamber as a contender in its 2022 Best Places to Work Award. JRC has been committed to being an active business and member of the Huntsville community, supporting areas such as STEM outreach, cyber education, and small business defense advocacy.
JRC's Huntsville Team is comprised of a diverse talent base of over 20+ professionals, led by six of JRC's Subject Matter Experts in the areas of systems engineering, facilities management, cyber security, and business development.
Huntsville Senior Manager: Dan Kemp
Systems Engineering section Manager: Chris Fry
Facilities Manager: Sue Ousterhout
Cyber Security Manager: Azriel Stoval
Director of Strategic Captures and Proposals: Mark Sferra
Senior Proposal Management Specialist: Gayla Suddarth
JRC Senior Proposal Management Specialist, Gayla Suddarth, was nominated in May of 2022 as Professional of the Year by Women in Defense's TN Valley Chapter (WID-TVC). Gayla was nominated due to her involvement in the technical community (as a defense contractor) combined with her continuous community support efforts in the Huntsville area. Gayla serves as Director of STEM Initiatives for WID-TVC, overseeing STEM volunteer work, including organizing mock interviews, career fairs, industry STEM presentations, science fair judging, youth STEM mentorship, and STEM coaching for local Cyber Patriots (The National Youth Cyber Education Program created by the Air Force Association to inspire K-12 towards careers in cyber security or other STEM disciplines).
When asked about advancing technology and defense in the Huntsville community, Gayla said,
"I love working in the Huntsville area in support of our defense community. The culture reflects hard-working, patriotic professionals with strong ethics and excellent business practices. Personal relationships are important in the business environment, as is community service. Many times, our service together in community support activities builds the foundation for doing business together. It's these impressive qualities that have earned Huntsville the title as one of the best cities in which to live, work, and raise a family. Huntsville professionals and businesses in our industry tend to be very supportive of one another and possess the attitude that "there's enough work for all of us" instead of being highly competitive and more closed off to each other".  – Gayla Suddarth (JRC Senior Proposal Management Specialist)
In 2023 and beyond, JRC aims to increase its support across the Huntsville area providing support in various technology advancements, digital engineering, and cyber security.