Posted September 21, 2022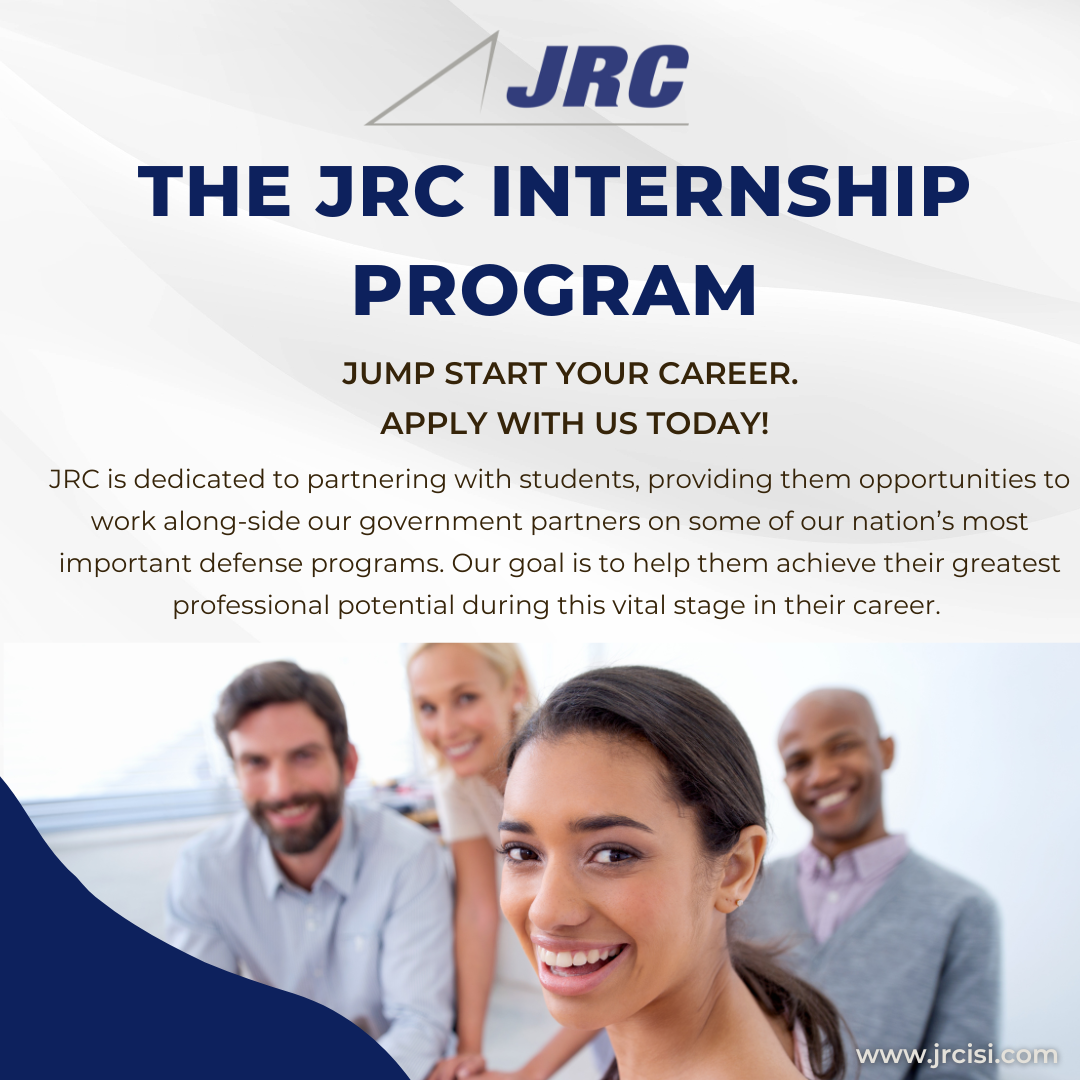 The JRC Internship experience is designed to equip student engineers and analysts with an elite learning opportunity, accelerating growth and development in their technical field of study. JRC is dedicated to partnering with students, providing them opportunities to work along-side our government partners on some of our nation's most important defense programs. Our goal is to help them achieve their greatest professional potential during this vital stage in their career.
The JRC Internship experience is intended to be a long-term partnership. Ideally, our interns return for multiple summers, actively applying what they've learned in their schooling to our nation's most challenging goals of strategic deterrence and strategic defense. For students committed to growing their relationship with us over the course of their college career, we help them obtain a government security clearance. This enables our interns to enhance their level of involvement on various government programs, giving them an exceptional learning opportunity before officially entering the workforce. With a government clearance being a pre-requisite for most government support work, our interns graduate with a competitive edge in the marketplace.
Not only do we offer competitive compensation for our interns, but we also offer a co-op program, allowing our interns to work with us part-time throughout their academic school year, creating a consistent stream of practical learning application while obtaining their degree. The intent is for our interns to begin working with us post-graduation, should a contract opportunity be available.
To meet basic internship requirements, JRC Interns must be enrolled in an accredited institution or program in their area of engineering, science, or business. Our interns are expected to come into the program with keen analytic and technical skills with an aptitude for learning, teamwork, and leadership. Each JRC internship opportunity also has its own specific requirements and qualifications pertaining to its respective area of support within our organization.
Here at JRC we believe leadership is demonstrated at every level of our organization; this begins with our interns. We equip these young professionals with various leadership opportunities through a plethora of independent and team led learning experiences. Each is designed to foster "outside of the box thinking" when it comes to developing smart solutions for our customers.  Each intern is required to share a final presentation with JRC's leadership, showcasing the projects they've supported, the challenges they've solved, and the skills they've acquired during their time with us.
Here is what prior interns are saying about their internship experience with JRC.
"One of my favorite things about working there was how welcoming everybody was and how easy they made it for me to start my first internship. I can honestly say the leadership at JRC is committed to every intern's success. I was able to learn a lot of skills that I will be able to use in future jobs and after college". – Madison Pierce (HR Intern, University of Georgia)
"The internship at JRC has been a great experience. We get to learn about how the defense industry does engineering and do real work with the JRC employees. You get to learn about and actually do work with various topics such as test documentation, action item tracking, and other various real-world tasks that have an impact". – Zachary Binnix (Engineering Intern, Ohio Northern University)
If you are interested in building a career with JRC, we encourage you to apply to one of our internship program opportunities, located on the career tab of our website. Open Positions | JRC (jrcisi.com)