Posted November 14, 2022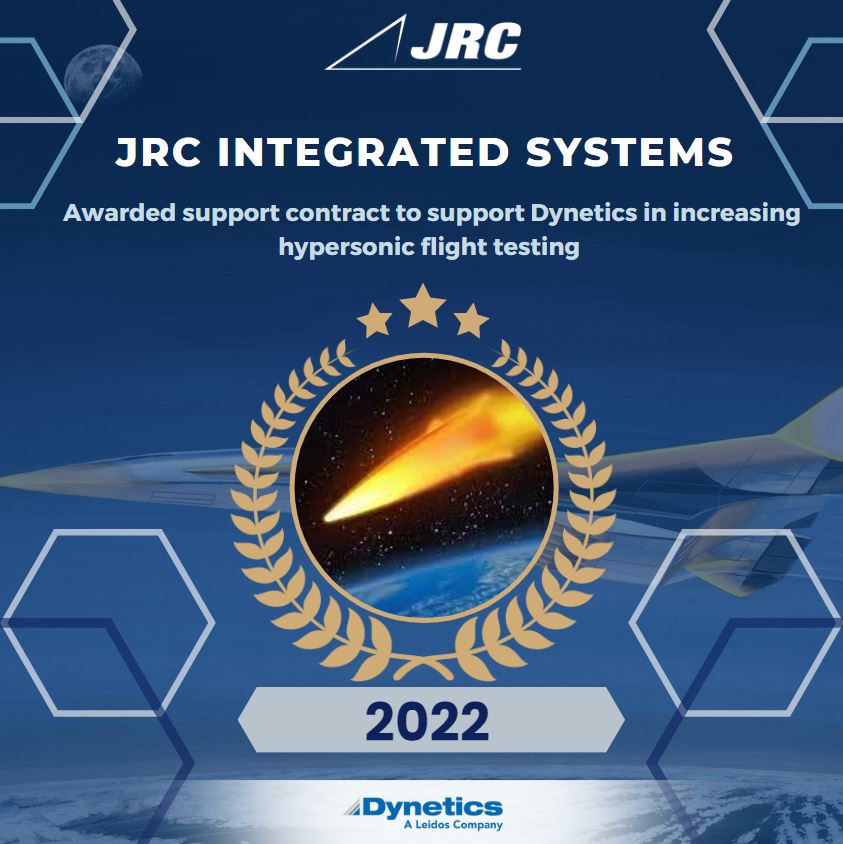 WASHINGTON, DC (October 26, 2022) – JRC, a leading provider of scientific, engineering, and technical support to the Department of Defense and other federal agencies, has been awarded a support contract to increase the capacity for America's hypersonic flight testing. The program, known as Multi-Service Advanced Capability Hypersonics Test Bed (MACH-TB), was awarded by the Naval Surface Warfare Center, Crane division on behalf of the U.S. Department of Defense to Dynetics, a wholly-owned subsidiary of Leidos.
MACH-TB supports hypersonic programs by creating opportunities to test technologies with robust, agile and modular approaches. It will demonstrate ways to affordably prototype a test bed that leverages multiple, commercially-available launch vehicles for hypersonic payloads. The data collected will provide insight to the DoD on technology improvement and capability validation. This will enable more robust and successful developments of hypersonic weapon systems. Additionally, MACH-TB will provide a modular Experimental Glide Body (EGB) to create opportunities for technologies to be tested in relevant hypersonic environments to inform acquisition decisions for weapon systems.
"JRC is proud to be supporting our nation with one of its highest priority modernization areas as it continues to keep America and her allies safe". – Tony R. Jimenez (President and COO)
This hypersonics flight test bed will bring to fruition a centralized hypersonic testing capability that can be leveraged by Navy, Army Long Range Hypersonic Weapon (LRHW), the Missile Defense Agency (MDA), Air Force hypersonics programs, DoD research programs, small businesses, industry, and academia stakeholders.  This program was initiated by the Navy and will be managed by OSD's Test Resources Management Center (TRMC) and executed by NSWC Crane. 
JRC will support Dynetics along-side 20+ partners across industry, small businesses, national laboratories, and academia to develop and execute the program. JRC will support work performed in Crane, Indiana, Huntsville, Alabama, and the National Capital Region.
###
About JRC
JRC is an award-winning workplace, acknowledged as one of Greater Washington's Best Places to Work and recognized as a Top Workplace by The Washington Post for 10 years straight. Headquartered in Washington, DC with international programs and operations in over 15 states, including physical office locations in Washington, Dahlgren, Crane, King's Bay, Cape Canaveral, and Huntsville, JRC is a preferred trusted agent to the federal government. For the past 20 years, JRC's expertise in areas such as systems engineering, digital integration, and program management, have supported some of the nation's most important defense programs. As a small business innovator, JRC is leading the way in areas of robotics automation technology and cyber security for its customers. 
About Dynetics
Dynetics, a wholly owned subsidiary of Leidos, provides responsive, cost-effective engineering, scientific, IT solutions to national security, cybersecurity, space and critical infrastructure sectors. Our portfolio features highly specialized technical services and a range of software and hardware products, including components, subsystems and complex end-to-end systems. The company of more than 3,000 employees is based in Huntsville, Alabama, and has offices throughout the U.S. For more information, visit www.dynetics.com.
About Leidos
Leidos is a Fortune 500® technology, engineering, and science solutions and services leader working to solve the world's toughest challenges in the defense, intelligence, civil, and health markets. The company's 44,000 employees support vital missions for government and commercial customers. Headquartered in Reston, Virginia, Leidos reported annual revenues of approximately $13.7 billion for the fiscal year ended December 31, 2021. For more information, visit www.leidos.com.
Press contact:
Alexia Ferrari
Corporate Communications Officer
Email: alexia.ferrari@jrcisi.com