Posted November 17, 2022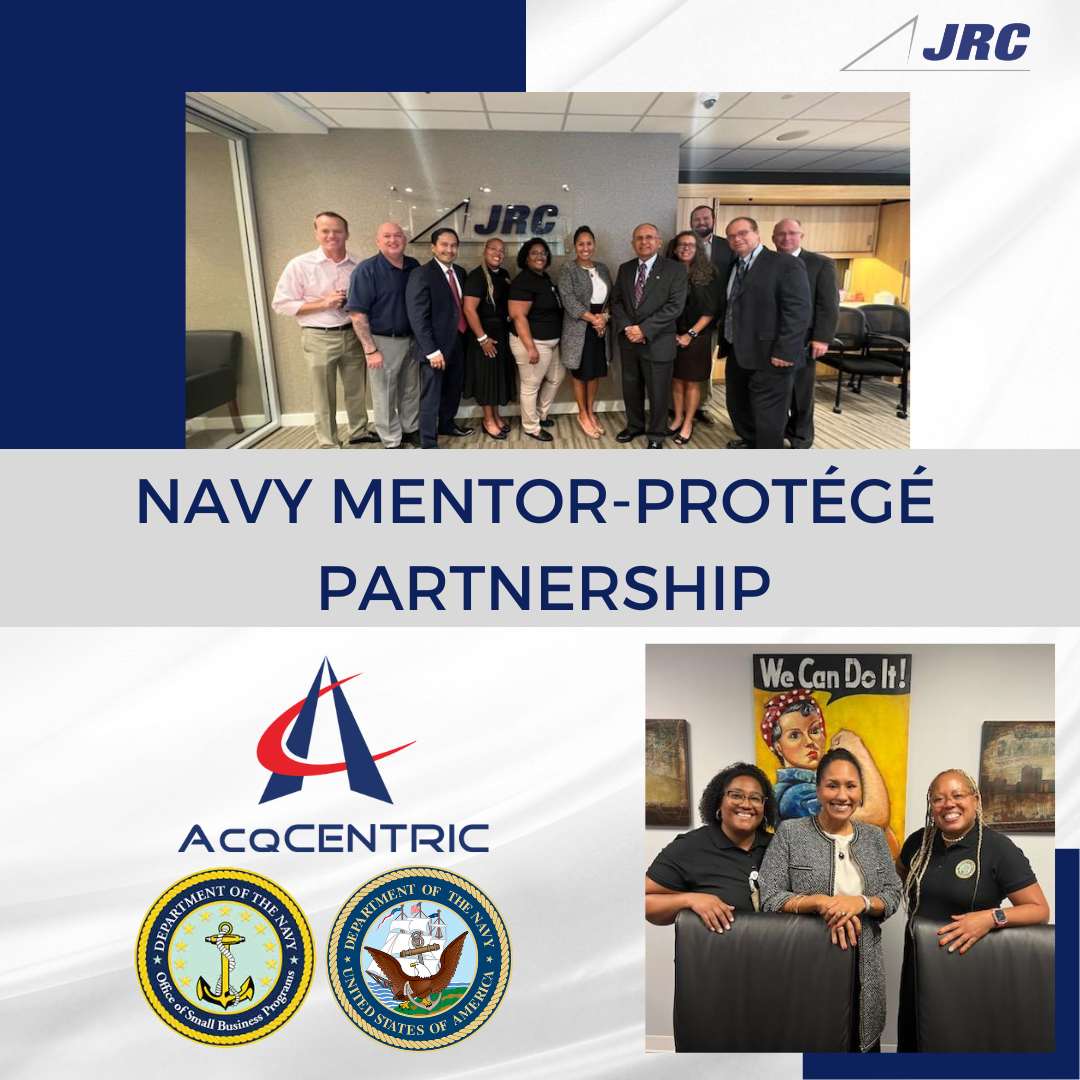 Top: Chuck Howald (AcqCentric VP), Jerry Smith (Navy Mentor Protégé Program), Tony R. Jimenez (JRC President & COO), Arveice Washington (Navy Small Business Office Deputy Director), Mercedes Thurston (Navy Small Business Office Mentor-Protégé Program Manager), Angela Howald (AcqCentric CEO), Dr. Tony Jimenez (JRC CEO), Rachael Wiseman (NSWC Crane), Drew Hyden (DARPA), Ron Grignol (JRC VP), and Rodney Luck (JRC Executive VP & CSO)
Bottom: Mercedes Thurston (Navy Small Business Office Mentor-Protégé Program Manager), Angela Howald (AcqCentric CEO), and Arveice Washington (Navy Small Business Office Deputy Director)
JRC is proud to announce its Navy Mentor- Protégé partnership with Women Owned (WOSB), 8(a) SBA Certified Small Business, Service-Disabled Veteran Owned (SDVOSB) company, AcqCentric, Inc. AcqCentric provides technical and programmatic services to the Missile Defense Agency (MDA), PEO Missiles and Space, and Army Combat Capabilities Development Command (CCDC).
As part of The Department of Navy Mentor Protégé Program (MPP), JRC will assist AcqCentric with a variety of developmental areas, helping AcqCentric not only reach business goals but successfully compete for prime contract and subcontract awards. JRC is committed to helping small businesses like AcqCentric grow, contributing to a strong defense industrial base in support of some of our nation's most challenging goals of strategic deterrence and strategic defense.
"JRC is honored to share what it has learned over the past 20 years supporting its government customers. From operations to compliance, the space can be difficult to successfully navigate without mentorship. As part of the defense community, we feel it is our duty to help small businesses strategically grow, while upholding the excellence required to support our mission and government counterparts". (Rodney Luck, JRC Executive VP & Chief Strategy Officer)
JRC officially kicked-off its Mentor Protégé partnership in the AcqCentric office located in Huntsville, AL earlier this month. The JRC Mentor Protégé Agreement (MPA) was awarded to JRC on 27 September 2022. The period of performance ends 28 September 2023.